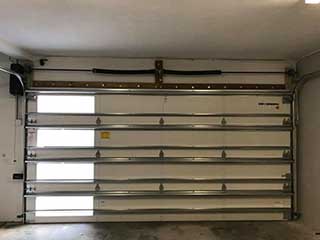 The springs in your garage door system work hard to keep your door moving. A home's garage door can easily weigh more than 200 pounds, and the majority of this tension is carried by the springs. They're built to last for several years but will eventually wear out after years of regular use. Our technicians can quickly and safely replace your broken or worn-out springs with high-quality replacements. Whether your springs have already failed or are showing signs of weakening, we can help you.
Which Springs Have I Got In My Garage?
Most small garage doors only require a single torsion spring - this typically runs along the top of the door itself. It takes the tension of the door when lifted and does all the hard work of holding the door's weight. Door can also be fitted with extension springs that run along the ceiling. These come into play when the door is lowered, taking the tension as it closes and preventing it from slamming shut.
How Do I Know If They Are Failing?
It can be hard to spot the warning signs of a weakening spring unless you know what to look for. Generally speaking, a door that visibly wobbles or sags is probably in need of a new spring and professional attention. You can check the condition of the springs by testing the door's balance - hold it half open and disconnect the opener. The door shouldn't move significantly if the springs are working properly.
Extending Service Life
Springs will eventually wear out, but regular maintenance can keep them working for longer. Our technicians can apply lubrication and test the door's balance, ensuring the tension is properly distributed. This is an important part of preventing accidents and sudden breakdowns- we strongly advise that you arrange regular servicing for your door.
Contact Our Team
For replacement springs and expert maintenance, Garage Door Repair Huffman is the team for the job. Contact us today to find out how we can help you.
In addition, count on us for:
Part Replacement & Lubrication
Belt Drive Opener Installation
Oil Tempered Torsion Springs
Damaged Parts Replacement